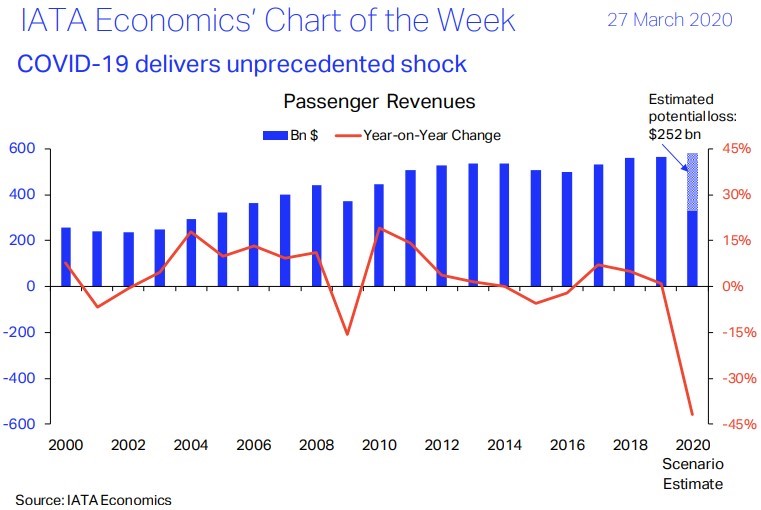 Is Aviation A Special Case?
A Primary Interview with aviation consultant John Strickland
As recently as last December Airline CFOs and heads of cargo were reporting positivity about future growth in air travel, although they were less positive about cargo due to the slow-down in world trade as a result of trade disputes. The pandemic has ripped that moderate optimism to shreds, as graphically illustrated in the chart above. 2019 of course featured 'the fastest growth in airline failure in history' according to the International Bureau of Aviation, with at least 18 operators going bankrupt. In the UK this included Thomas Cook Airlines and Flybmi. But these 'peacetime' casualties may come to be forgotten if the economic consequences of the response to COVID-19 result in more (and bigger) firms collapsing. The US government has just passed a stimulus package bailing out airlines and air cargo businesses. Now many politicians hope recipients will reform the way they operate in return-stock buybacks have been prohibited temporarily for beneficiaries of the stimulus, and many lawmakers see this as just a starting point. Similar measures may be pursued in Europe, where mass-employing airlines like Lufthansa and Air France-KLM are at risk, along with the continent's major aircraft manufacturer Airbus. We spoke to the aviation consultant John Strickland to determine more about the future of air travel in a world of destabilising pandemics.
Contact Primary to get access to this research report or to become a subscription client